RSVP Platform For Events
Do317's unique RSVP platform provides you with easy and free guest management tool for your next event.  If you are still using Facebook and Eventbrite, it's time to switch.  While our competitors may seem "comfortable" because they are familiar, your losing a lot of valuable marketing opportunities by using them.  Our RSVP platform is 100% free to use.
We currently work with a diverse range of clients including bars/nightclubs, restaurants, private dinners, fundraisers, festivals, private parties, and conferences.
Want to keep your event private? No problem.  We'll make your event private so its only accessible by the dedicated link we provide.
All of our RSVP Users Enjoy
Unlimited use of the technology
Enhanced event listing with description, audio, video
Opt-in checkbox to build your mailing list
Set your number of guests, allow unlimited, activate +1's
Featured in our weekly email newsletter (RSVP section)
Featured on the RSVP section of Do317
Every RSVP increases the popularity of your event on Do317 and our affiliates
Ability to add custom fields
Add age restrictions or leave open for all-ages events
Neatly organized guest list sent on the day of your event
New: Custom share image for social networks
New: Customize your confirmation emails, sent to each person who RSVPs
Your event (if public) will appear on Do317.com, Do317 Mobile App, and our affiliates
How It Works
RSVP feature activated for your event listing with custom call-to-action line
After selecting RSVP, the info screen appears.  This section can be customized specifically for your event and include zip code, age restrictions, and more.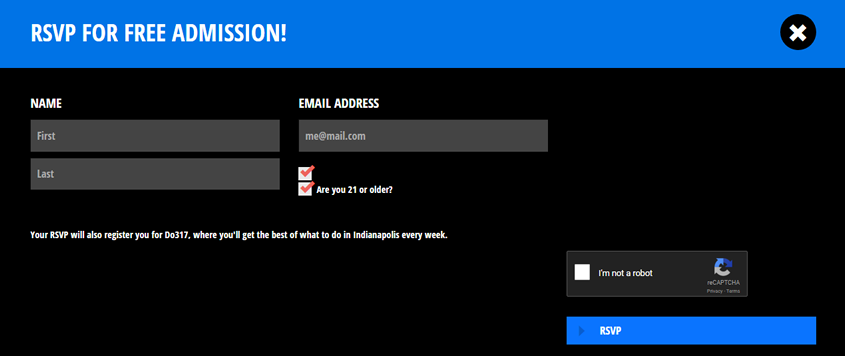 RSVP Confirmation Screen (The user has never left your event listing.)
Email confirmation arrives via Email.  This message can be changed to include any event specifics, parking details, or sponsor mentions.